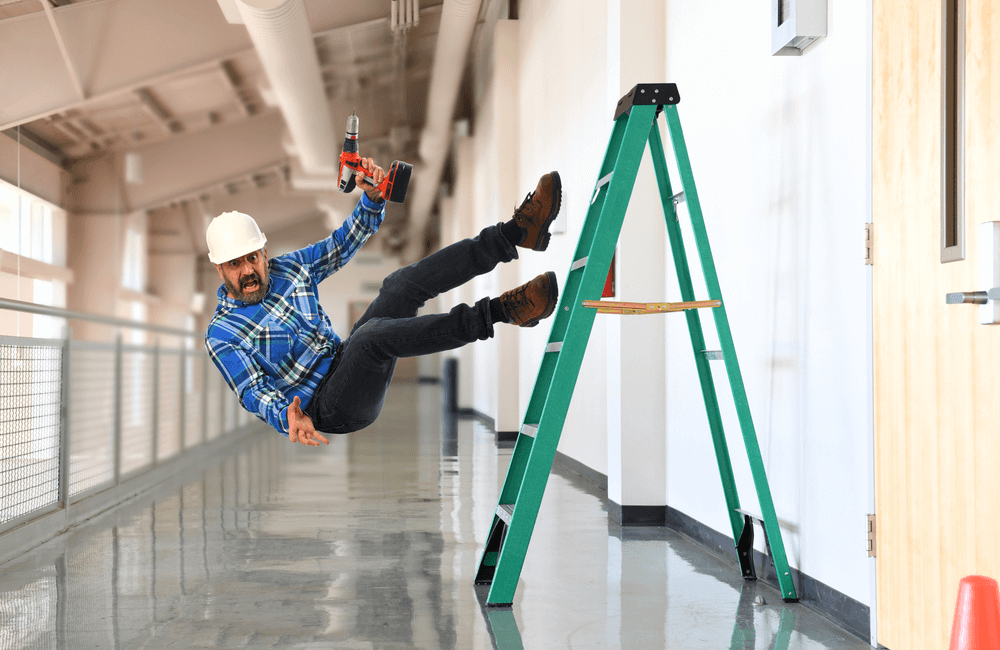 During the first week of May, the Ontario Ministry of Labour, Training and Skills Development partakes in the annual Falls Awareness Week (FAW). FAW aims to bring awareness to the falls and hazards that exist in every workplace with workplace discussion and participation. In fact, Workplace Safety North says that every day, 80 workers are injured in a fall – that's one every 20 minutes. They also stated that there are approximately 17,000 lost-time injuries each year due to workplace falls and that 65 percent of falling-related injuries are from slips and trips – same level falls. 
In addition, Workplace Safety North lists that these are the top five common slip, trip and fall hazards in the workplace:
Slippery surfaces such as spilled wet or dry substances or season snow and ice
Changes in levels and slopes of walkways
Unsecured floor mats
Debris, items, cables and cords in walkways
Obscured view from poor lighting, steam, dust or smoke
With that being said, here are 5 ways to prevent these fall accidents in the workplace:
Walk on surfaces that are clean and free of clutter


By keeping the walkway clear at all times, there are fewer chances of potential injuries for employees and customers. An unobstructed path will minimize the opportunity for someone to trip over an unexpected object and a potential fall.

Stairways and Handrails


Stairs are a common area for falls in the workplace that can often cause injuries and sometimes death. Ensure that all stairwells are clear from unsecured objects and to use the handrails at all times, while using one foot at a time.

Check floor conditions


There are different types of floor conditions, which means it must be checked at all times. Examples include cracks or holes in the floor or in the pavement outside. To prevent employees and customers from falling, immediately repair any of the problem areas on the ground and be sure to place the proper signs in, on or around the areas that need to be fixed. Other conditions include slippery floors. If there is a spill, place the proper warning sign in the affected area while cleaning it immediately.

Manage cords


These days there are plenty of cords in the workplace that can create obstacles for employees, as well as customers. In order to prevent this, running these cables behind walls or under carpets to keep hidden can  limit danger. By also installing power outlets, internet connections and phone jack in an easy-accessible location will help avoid running cables across walkways.

Lighting


Having proper lighting in and out of the workplace will help illuminate areas that may potentially cause employees or customers to trip or fall. With proper lighting, this will reduce the chances of an individual slipping or falling.
By following these safety tips, all falls can be preventable in the workplace. By staying proactive and paying attention to detail, it will ultimately help keep all individuals safe and out of harm's way.
To participate in Falls Awareness Week, workplaces should stop work to hold a 15 to 30 minute safety talk about preventing falls in the workplace. During that time, the speaker or designated coordinator should cover specific areas to discuss with staff that includes what needs improvement and the types of training courses employees are required to take, workplace hazards, protective methods and the company's safety policies, goals and expectations.
For more information on Fall Awareness Week, please visit the official website here: https://www.labour.gov.on.ca/english/hs/topics/falls.php
Falls Awareness Week