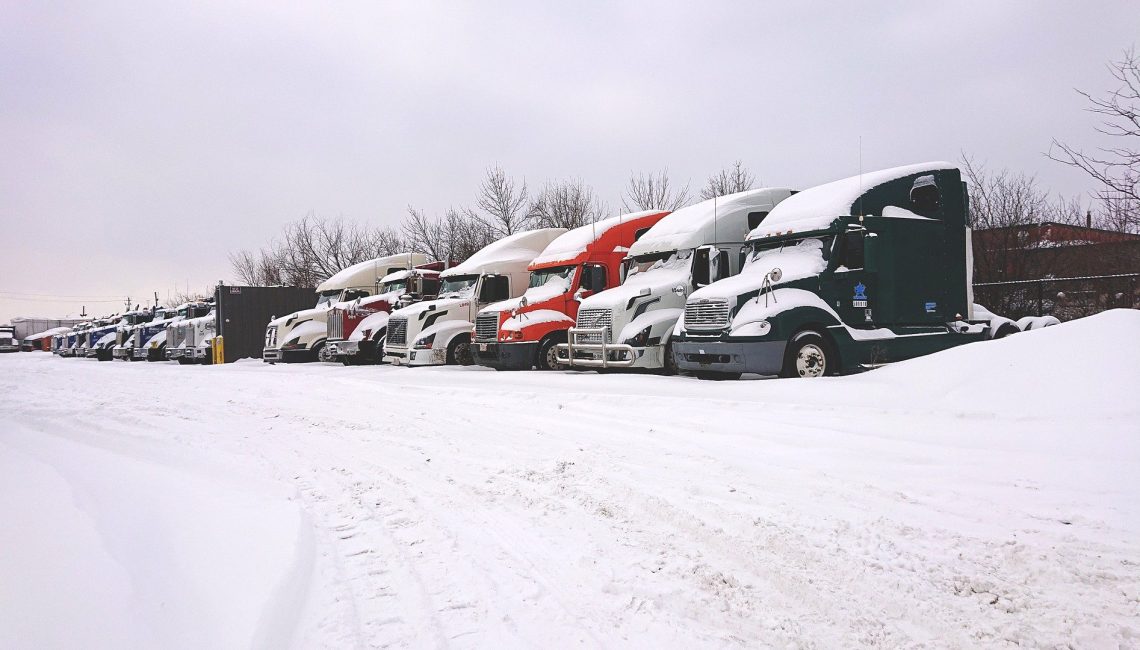 For commercial businesses that have five or more registered cars, trucks or other vehicles, which is known as a "Commercial Fleet," the winter season can be a source of problems and headaches. This is due to the challenging winter driving conditions on the roads as many businesses rely on their commercial vehicles to transport goods or passengers.
According to the 2011 Collision Statistics from the Canadian Motor Vehicle Traffic report, there were an estimated 968,000 registered commercial vehicles in Canada. By 2017, Transport Canada's National Collision Database (NCDB) calculated an estimated 1,168,000 registered commercial vehicles in the country. Not only will that number continue to grow, but with the increased number of commercial vehicles currently on the road, it is important to drive safely for all other drivers and pedestrians, especially in the winter.
Commercial businesses should protect their commercial fleet during the winter season by following these tips:
Commercial Fleet Insurance
Commercial businesses cannot operate their vehicles without having a commercial fleet insurance policy. By purchasing fleet insurance, it will provide liability insurance coverage for all commercial vehicles in one policy. In addition, a fleet insurance policy will allow employees of the company to drive any of the vehicles in their policy and provide coverage if they have been involved in an accident. A fleet insurance policy is similar to a personal auto insurance policy and has the same coverage. The only difference is that insurance companies will provide a discount to their rate due to the large number of commercial vehicles within their business. A fleet insurance policy comes with three mandatory coverages:

Third Party Liability – Covers your business when the driver of your company vehicle is legally liable for injuries to another person or damage to another person's property.
Accident Benefits coverage – Covers medical costs, rehab, loss of income due to disability or death and funeral expenses.
Coverage against Uninsured Drivers – Covers your business if the driver of your company is injured or succumbed to their injuries by an uninsured driver who is found responsible for the accident or by an unknown hit-and-run driver.

Fleet Inspections


Before your vehicles are driven, it's always important to ensure everything is up and running. That means topping off fluids for the vehicles, double checking the spark plugs, battery and brake pads and installing winter tires. Having winter tires improves the ability of your vehicle to make it through winter conditions because the rubber of the tire is designed to stay flexible in cold and icy weather. By inspecting your fleet, you are aware that these vehicles are safe, secured and ready to hit the road.

Fleet Drivers


Part of the safety and protection of drivers and pedestrians during the winter time is assuring you've hired a fleet driver with an excellent driving record and is highly experienced. If you've taken on a new driver, there are fleet driving courses available as per the Canadian Pro Drivers. After all, a vehicle shouldn't be transported without a licensed and trained driver behind the wheel.

Fleet Tracker


By installing a fleet tracker, you are improving the safety and productivity of your fleet. Not only are you creating more business opportunities, but you are also providing better customer service to your clients. With a fleet tracker, you are able to see where all of your vehicles are instantly. You can respond to your next client faster by assigning the closest driver to the next transportation job, while receiving weather and road alerts. It also gives your drivers an insight of their driving to help them avoid accidents due to harsh braking, rapid acceleration or excessive speeding.
Needless to say, commercial businesses whose operations require driving should stay aware of the uncertainties that the winter weather may bring. Driving in the winter time comes at a high and hazardous risk, especially when there are poor weather conditions on the road, such as driving in the middle of a snowstorm. In fact, the annual accident rate for commercial fleets has reached 20 percent; therefore you must protect your business and fleet from the winter season for the safety of all.
If you have any questions regarding your current commercial fleet policy or are looking to purchase a policy, contact Oracle RMS today for more information!