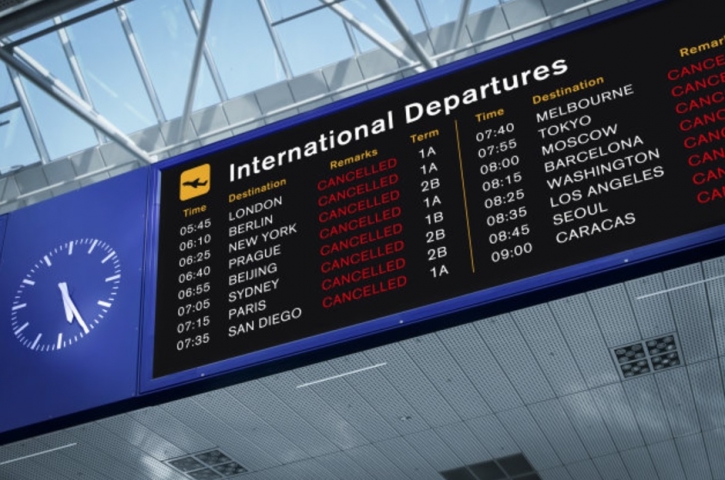 Content courtesy from the Huffington Post Canada website.
As we are presumably all aware of by now, we're smack in the middle of hurricane season.
On August 25, 2017, Harvey hit North America as a Category 4 hurricane. From August 26 to 30, the storm moved very slowly across South East Texas and Louisiana, causing catastrophic wind damage and flash floods, which left for little time for preparation or evacuation. Potentially the worst weather disaster in U.S. history, Harvey left wreckage all across the coastline resulting in billions of dollars in repairs as well as irreplaceable losses. Additionally, many travel plans were interrupted during that week, as flights all across the world were delayed or altered due to Houston's airport closure.
Harvey won't even be the only hurricane to worry about this year, as experts are saying we are in for an "extremely active" season. At the time of this writing, Hurricane Irma has moved across the Atlantic and is said to be the most powerful hurricane in history. The North East Caribbean islands have already been hit, as well as Barbuda and Saint Martin, leaving behind complete destruction. Irma is currently on its way to pass over the Virgin Island, Puerto Rico, the Dominican Republic, Turks and Caicos and the South East Bahamas. Even if the storm only grazes one of these islands, the winds, rainfall and coastal waves will lead to extreme danger and cause lasting impacts. It is currently unclear if Irma will reach Florida, or anywhere in the U.S., but the Florida Keys are under mandatory evacuation and the mainland is preparing for the worst.
Canadian airlines Air Transat, WestJet, Air Canada and Sunwing are currently sending planes ahead of Irma to at-risk areas to help evacuate locals and travellers. So if you are currently on vacation, look into emergency departure flights with your airline. If you have a trip planned by air to the South East this week, here's what you can do.
Additionally, many more airlines, such as American, Delta, JetBlue, Southwest, Spirit and Air Canada have issued travel advisories for the endangered areas and are therefor waiving fees and fare differences for travellers to reschedule their flights. With proper travel insurance, cancellations for this reason should be covered regardless, so double check your plan and look into filing a claim to cancel or change any plans.
Unfortunately, if you didn't purchase travel insurance prior to the naming of the storm, it is now too late. Similarly, if you've prepaid for a hotel or excursion plans already, they are most likely already closed temporarily anyway, so if you aren't offered a refund automatically, call them. If you aren't offered any waived fees or refunds, which would be unlikely, check your credit card or home insurance policies as there may some protection there.
It is as important as ever to buy travel insurance as soon as you book your trip to any potentially risky area.
Hurricanes are never good, but especially if they happen while you're travelling in an unknown place. Flash floods, extreme winds and destructive waves wreak havoc on a coastline, and cause many repercussions throughout the world and on your travel plans. Here are some general facts and tips on travelling during hurricane season.
Hurricane season runs from June to November, with peak time from August to October. With that in mind, it is as important as ever to buy travel insurance as soon as you book your trip to any potentially risky area. Purchasing cancel-for-any-reason, medical and evacuation (if that isn't included in your medical plan) would be your best bet. You want to be covered if the storm hits the day after you book your flight, the day before you leave, or while you're there.
Be sure to scrutinize the fine print on your existing insurances, though, as many credit cards cover certain cancellations or lost luggage, while some home plans cover your belongings while you're away with them as well. Then fill in the gaps of what isn't covered with travel plans! Even if you aren't travelling to a directly at-risk area, keep in mind that the plane you might be booked on could be coming from an at-risk area, meaning you could face delays anywhere in the world. One reassuring aspect of hurricanes is that meteorologists are able to quite accurately predict when they will hit well ahead of time, so you hopefully won't get stuck in one!
There are also many apps and websites available to monitor existing, upcoming and potential storms. RadarCast, Storm Shield, Dark Sky and Weather Underground are all great options if you really want to stay up to date on any risks — with notifications coming straight to your phone in real time. If it seems like you're headed for trouble, be sure to take out some emergency cash in case the power or internet goes out and you can't access your bank.
After the storm is over, your problems unfortunately won't be.
If you are already mid-vacation when the storm hits, do not hide in your hotel room. The hotel will have a plan in place, so follow their directions exactly as instructed. Your hotel room most likely has large glass windows, which is at major risk for shattering, so don't think you're better off in the room than wherever the staff wants you to go! If you aren't able to consult with the hotel, head to any interior room or a stairwell without windows.
After the storm is over, your problems unfortunately won't be. The airport may take a few days to reopen, and once it does it will be a gong show. Travellers should prepare to stay for a few extra days while they look for a flight or to wait out the rush. The good side to this is that the hotel you were at shouldn't be booked up, as there won't be any new guests arriving.
Additionally, even if you're not travelling to an at-risk destination, any travel at all during hurricane season can be disrupted due to delayed, rerouted and cancelled planes. When travelling anywhere with a connection, be prepared to experience delays or lost luggage. Book a long connection time and have as much as you can, if not everything, in your carry-on.
Overall, you shouldn't avoid travelling during hurricane season, just take extra precautions and enjoy the cheaper fares and less crowded beaches.
Travel Best Bets is wishing everyone a fast recovery in Texas and a safe next few days around the Caribbean!