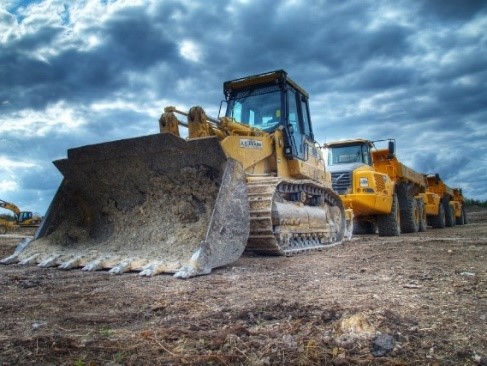 The majority of standard commercial insurance policies will not automatically include coverage for the breakdown or loss of your business' crucial equipment and tools. Some policies may include coverage for your equipment to an extent, but usually, that coverage is nonsufficient for businesses that employ their equipment and machinery for everyday use – like construction businesses.  To cover your business equipment and tools, you'll need to purchase separate coverage options – such as equipment insurance and/or equipment breakdown insurance.
Equipment insurance and equipment breakdown insurance can be purchased as part of a comprehensive contractor and construction insurance package. Read more about insurance for contractors and construction businesses here.
For the difference between equipment breakdown insurance and equipment insurance, read on.

What is the difference between equipment breakdown insurance and equipment insurance?
Although they sound similar, equipment breakdown insurance and equipment insurance are not the same. They're two complementary parts of an overall comprehensive commercial insurance package designed to protect your business from damages or losses to vital equipment.
Equipment Breakdown  Insurance is insurance that is designed to cover your insured equipment against accidental or sudden breakdown, as well as physical damage to equipment that requires repair and replacement. It does not generally cover normal wear and tear. It covers damages specifically as a result of internal malfunctions due to electrical and mechanical issues, such as electrical shorts, mechanical breakdowns, operator error, motor burnout, and power surges. You may also have some level of coverage under your equipment's warranty, but usually, warranties will have strict limits and conditions.
Equipment Insurance covers the equipment from external damages such as fire, vandalism, windstorm, and theft to name a few.  It can be purchased as an addition to your existing commercial property insurance. It might also be referred to as an equipment floater and enhances your insurance for your vital equipment, such as forklifts, concrete mixers, derricks, bulldozers, and more. It also covers equipment while it is being transported between worksites, which a standard commercial property insurance may not include. An equipment floater provides two options: scheduled coverage or blanket coverage. Scheduled coverage requires the business to create a comprehensive list of all the components they want coverage. Blanket coverage requires the business to create a "definition" for what is considered covered property and will insure anything under this definition, whether it's on your equipment schedule or not.
In layman's terms,  Equipment – Insurance is designed to protect commercial business owners against damages resulting from external causes, and equipment breakdown insurance protects against the risks of damages that are caused by internal issues to equipment.
Who needs equipment breakdown and equipment insurance?
Any business that uses equipment  that it depends on to carry out its daily operations may need some level of equipment breakdown and/or equipment insurance. The following list of business lines may benefit from one or both coverage options:
Construction companies
HVAC contractors
Plumbing contractors
Technicians
Electricians
Manufacturers
Restaurants
Bakeries
Warehouses
Landscapers
Autobody shops
Welders
…and more!
If you find that you are limited by the traditional exclusions for equipment coverage under your commercial property insurance policy, purchasing equipment breakdown or an extended equipment insurance floater might be the right choice for you. So long as your business depends heavily on its electronics and equipment, you'll likely benefit from having these options to ensure your business doesn't suffer from an extended period of downtime while these items are being repaired or replaced.
What doesn't equipment breakdown and equipment insurance cover?
Traditionally, both equipment breakdown and equipment insurance have several exclusions you may need to pay mind to. Equipment insurance won't cover any equipment or tools not included in your coverage list, depending on the type of coverage you choose (i.e., either scheduled or blanket.) Equipment insurance also will not cover explosions or nuclear hazards, and typically will not cover pest damage, rust, or mold.
Equipment breakdown insurance is designed for internal breakdown causing losses or damages, so you can't purchase this policy alone and expect it to extend to external damages to your equipment in transit causing loss. Moreover, equipment breakdown won't cover any damages as a result of poor maintenance, routine tune-ups, or tire issues.
If damages occur to equipment during the course of installation, your equipment insurance may not cover you. For this, you'll need an additional installer floater, which covers both moveable and personal property while it is being transported, changed, or installed by a contractor. This will protect you from losses during the course of doing a job.
Other insurance options to consider including for construction companies are listed below:
Pollution liability
Cyber security insurance
Builder's risk
Commercial vehicle or fleet
Discuss with licensed insurance experts at Oracle RMS about any of the coverages listed to see how you can tailor-make a policy to best protect your construction or contracting business.
Equipment insurance and equipment breakdown are purchased as a part of a larger commercial insurance package
Commercial insurance options, like equipment insurance and equipment breakdown insurance, are all coverage options that may be purchased as part of a larger package. They should never (and likely cannot be) purchased alone, as your business requires a comprehensive array of coverages to fully protect itself against any and all exposures it may be faced with in its day-to-day procedures. Things like commercial property insurance, commercial vehicle insurance, general liability insurance, etc. help to cover your business against financial losses from other unexpected events that may occur.
Oracle RMS specializes in customized and tailored coverage plans that work for your business. Equipment insurance and equipment breakdown insurance may be part of these plans, but they're just one piece of a larger puzzle.
If you're a contractor operating in construction or if you are a business owner of a construction company, get a free quote from our trusted insurance partners ASAP.
[CTA/Get a Quote]