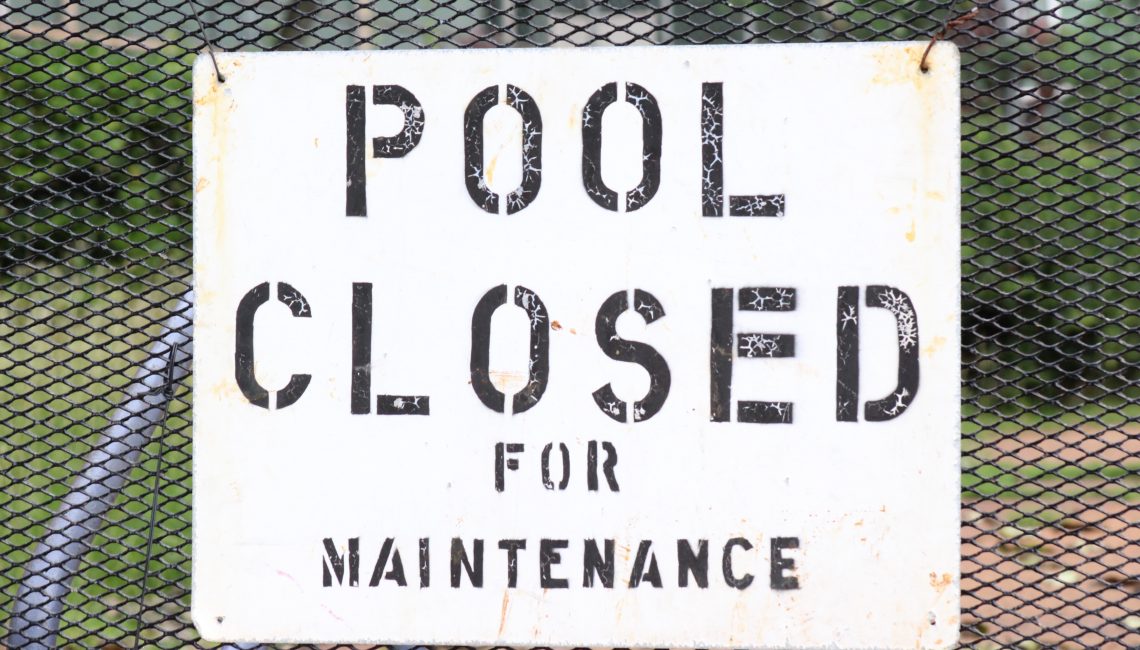 Just like that, our short Canadian summer has come to an end. Gone are the carefree summer days by the pool, and now it's time to prepare for the long Canadian winters. The next step in wrapping up the seasons activities is preparing your pool for the winter. Proper pool winterization is a mindful and necessary step towards adequate protection from the harsh winter and the damages it may cause. 
By following these steps below, it will make reopening your pool in the early spring that much easier. Here's where to start:
Inspect your pool.

Throughout the summer months, minor damages may have gone unnoticed. Leaks, cracks, or chips may seem insignificant now, but freezing temperatures can aggravate the deterioration of your swimming pool. Reach out to a professional and have these potential issues repaired before the approaching winter season.

Clean your pool thoroughly.

By brushing and vacuuming your pool, you will eliminate algae-forming dirt, visible bacteria, and harmful fragments. Ridding the natural pool build-up before winter means you're a step ahead once it is time to re-open.

Ensure your waters pH Levels and chemical levels are under control.

Use a pool kit to ensure there isn't any leftover chemicals that will erode or stain your pool during the off-season. Follow the kits guidelines; they are there for a reason.

To ensure there aren't any leftover debris, use a winterization algaecide that will kill remaining bacteria.

This stronger type of algaecide meant for the winter months will also prevent the blooming of algae in freezing temperatures when your pool isn't frequently cleaned.

Don't forget to clean your filter.

Filters are one of the most forgotten parts of pool maintenance  therefore it is an important step in keeping it clean for future use.

Do not completely drain your pool.

For those with aesthetic tiles, keep them above the water line to ensure freezing will not damage them. For others, lower your pool water enough to limit damages to your pool liner and cover. The lower the water, the more damage it can cause to the interior of your swimming pool.

Ensure all pool appliances are drained.

Water frozen in these tools such as filters, heaters and pumps can cause sufficient damage. Put them in a dry storage place for the off-season. For non-detachable pool filters, use a vacuum to blow water out.

Remember to remove all external pool equipment.

Pool toys, nets, ladders, pumps, heaters, and vacuums should be removed now that the swimming season is over.

Inspect your pool cover for damages.

Have these issues fixed before covering your pool to protect it from the winter. Make sure your cover is tight and secure to ensure reliable protection.

Protect those around you.

Have your pool alarm remain engaged throughout the winter. Just because it isn't swimming season doesn't mean children and pets are not at risk of an accident.

Ensure you have home insurance that provides coverage for both in and above ground swimming pools.

This way, you're covered during an accident or unfortunate event.
Following these steps in swimming pool winterization is a responsible step towards fulfilling your duty as a pool-owner. Begin these steps ahead of the time you wish to close your pool.  Remember that pool maintenance does not stop throughout the cold months. 
Keep an eye on the cover to make sure it is remaining secure, especially after rough winter snow and ice storms. Continue to check water chemical balances monthly to protect from damages. As tedious as these steps may seem, rest easy in knowing that you're making your pool opening routine easier and  faster come springtime.