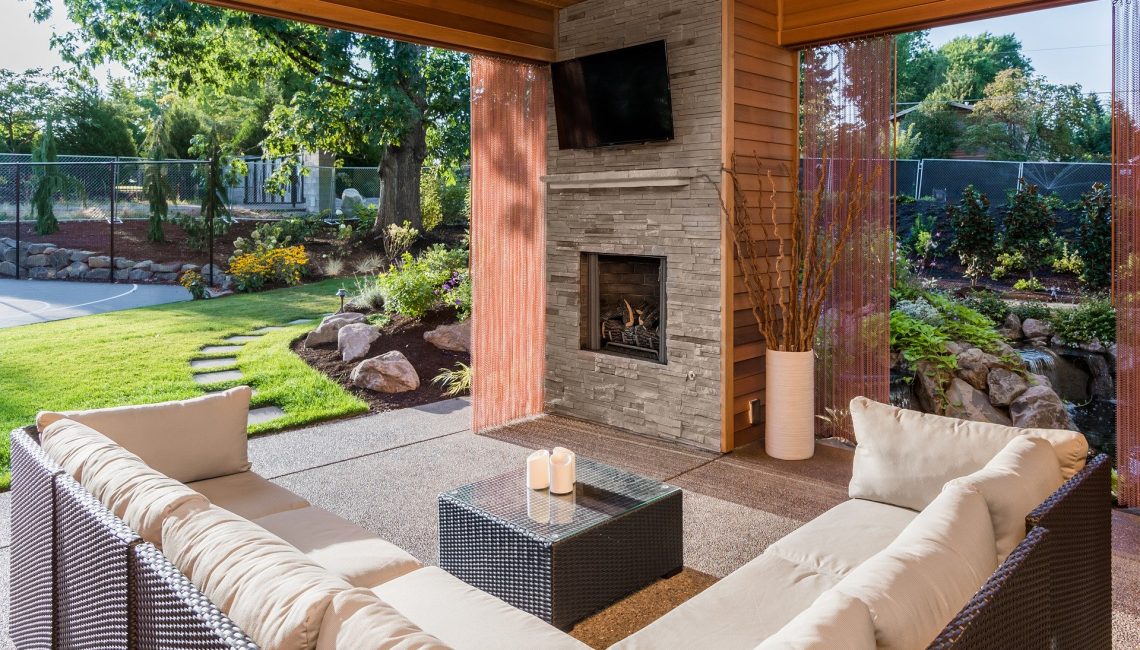 Summer is officially around the corner and given the current global pandemic of COVID-19, many families may be enjoying the season at home. Although Canadian summers are typically short, there's nothing like enjoying the outdoors while spending time with loved ones in the comfort of your home, specifically in your backyard patio.
A well-designed patio will not only make your backyard the spot to be this summer, but it allows you to take advantage of all the time outdoors. It can also be used when temperatures begin to drop.
Now, if you are already in the process of upgrading your backyard patio or plan to do so, below are a few patio renovation ideas and insurance tips.  These will ensure you have protective coverage for your relaxing, stylish and safe space that will be enjoyed from spring to fall.        
Adding an outdoor kitchen

By adding an outdoor kitchen to your patio, you'll be able to continue socializing while cooking up a storm. It can also save plenty of time because you will no longer find yourself running between the barbeque and the indoor kitchen. When it comes to the decision of upgrading your patio with the installation of an outdoor kitchen, you'll need to hire a professional contractor who can safely install outdoor electrical or gas appliances. This will depend on what you're planning to install. In doing so, make sure that the hired professional works is always insured for the protection of both parties.

Updating landscaping


Landscaping is a great way to improve the look of your home, especially your backyard patio. It will create an inviting environment for friends and family. Updated landscaping can be done in many ways such as brightening your yard, adding paths, fountains or trees for a decorated outdoor design. For homeowners looking to upgrade their landscaping for their patio, hiring a professional landscaper will be essential. Like always, before you officially hire a landscaper, it is important that the employees coming to make upgrades are insured under their landscaping company. For more information on the type of insurance coverages landscaping businesses need, click here.

Light installation


Lighting provides a huge part in setting the tone of your home and helping create focal points to highlight objects or different areas in a room. Installing lights to your patio will not only add ambiance, but it will also provide safety for guests or children who may slip and fall in the dark. Whether you install solar lights, string lights, LED lights, etc., adding lights for walkways and steps will also prevent third-party liability claims.

Fire


For those cold summer nights, backyard fires will help keep you and company warm. If you decide to install a fire element to your patio such as a fire pit, gas fire table or chiminea, it is important to first check with municipal laws, since there are different rules about backyard fires. This also varies depending on the area that you live in. In addition, following fire safety precautions in your patio will prevent any potential fires from spreading within your home and possibly your neighbours and surrounding land. It will also prevent any party from filing a claim.
With that being said, any new changes made to your patio such as big renovations or upgrades should be brought to the attention of your insurance company and notified right before you begin. Before you decide to make the upgrades to your patio, you'll ensure there are no surprises. This is due to the fact that big renovations or upgrades may impact your home insurance premium or require different/additional coverage to your home insurance policy. 
For more information about how backyard renovations could impact your insurance rates or if you have any other questions or concerns, contact your Oracle RMS licensed broker today.
Patio Renovation and Insurance Tips